Christmas in New Ross is a truly magical experience, with our beautiful shop fronts, mesmerising lights and cheery Christmas spirit. When it comes to shopping everything you could need is on your doorstep, but there is plenty more on offer than just our shops! This list is just a hint of what you can experience from New Ross this festive season! It really is a great little town!
Dermot Kehoe's-  One shop that has everything you need to get ready for Christmas right now is Dermot Kehoe's Homevalue, with the not to be missed Christmas Winter Wonderland Grotto Experience! Not only is this the perfect experience for kids and the whole family, but it will offer the ultimate shopping experience as well. The Christmas shop has everything you need to have your home looking better than ever, with a collection of trees, lights, baubles and more.
2. The Hooftop
Take a break from the busy town this festive season and enjoy a walk in the beautiful Kennedy Arboretum with a coffee from the Hooftop Café. At this time of year the park looks breath taking, and it is the perfect opportunity to get some fresh air and a long walk before or during the busy Christmas period. And the guys in the Hooftop have everything you could need with delicious coffee and cakes and a brand new range of speciality hot chocolates, perfect for warming up and getting in that much anticipated family time over the holidays.
3. The Dunbrody
Christmas wouldn't be complete without a trip to the Dunbrody Famine Ship! Allow the naughty Elves to guide you into the magical winter wonderland, where you will be captivated by the different snowy scenes. The Polar Bear patch is just mesmerising! The journey continues into Santa's cosy cabin where you will see the man himself and Mrs. Claus, behind a screen, but he will still be able to hear all your Christmas wishes! Each family will have their own time with Santa, take as many photos as you wish, once your ticked off on the "Nice List" you will then collect your present.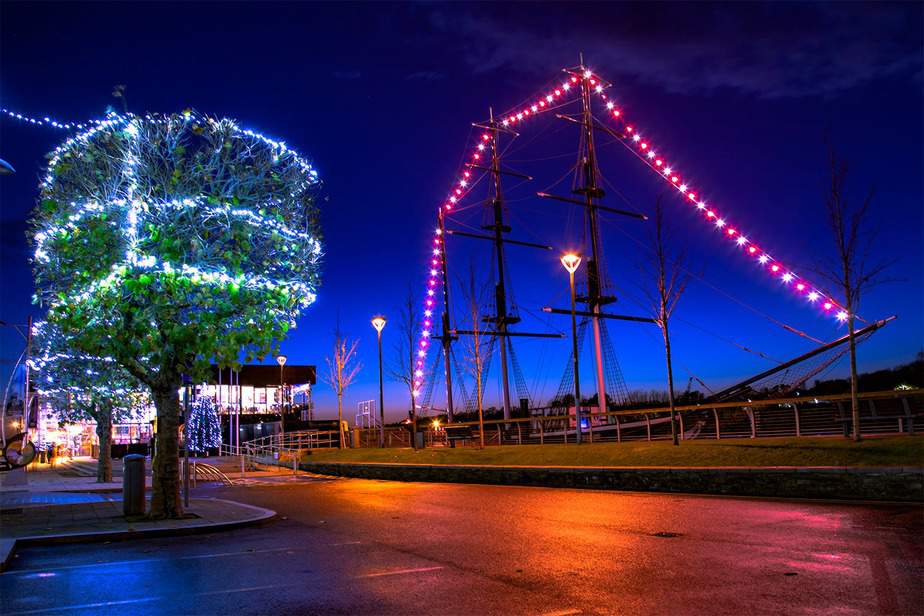 4. The Theatre
Frosty fest has been a huge success this year with the markets taking place in the courtyard of the theatre with a host of local crafter's and the bandstand delivering some truly wonderful musical performances from the likes of Holy Show, The Waxies and Borderline. As Christmas day draws closer the Theatre and its team is still on site and ready to deliver the Christmas cheer they are most popular for and they might even have some hot chocolate or popcorn too!