Norman heritage visitor attraction
An announcement was made last November that Wexfordia – The New Ross Tourism Transformation project, would be receiving more than €5.5 million in funding. Using this to enhance social and recreation facilities within the community and rejuvenate the local economy is vital for our town. Eamonn Hore, the Director of Services for the Wexford County Council, called the investment a "Game Changer for the area".
Wexfordia involves a series of projects in the centre of New Ross, including the regeneration of the old Murphy Building 20 and 21 the Quay. Plans are in motion to transform it into a stunning Norman heritage visitor attraction.
There are countless possibilities for this huge space. For instance, the old Murphy Building's blank walls are a perfect canvas for local artists. And a pedestrianised area with space for local stalls would be amazing for Summer and Winter festivals. As a result, the area could be perfect for supporting local creatives, bringing the community together and attracting visitors to The Norman Way!
Check out a before and after mock-up below.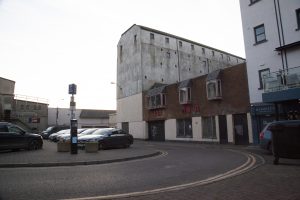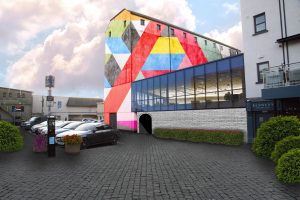 Would you like to see New Ross transformed like this? If you have any ideas for our town let us know in the comments!