As you probably already know, there are a number of local Polish businesses that took that leap and set up a small business in our town. In fact, there's even a Polish restaurant!
Lunchbox Restaurant
Over the last 20 years the Polish community in New Ross has grown and integrated well into the local area and more Polish natives have decided that now is the right time to start their own business. Some of these businesses allow Polish people buy products which are essential to their everyday needs but are not freely available in other stores, like helping them to cook their delicious traditional dishes, but don't worry, you don't need to be a Polish chef to enjoy a stroll through these New Ross businesses, there are even two eateries in town which serve delicious Polish food!
Let us introduce some of the people behind all of the businesses!
---
Lunchbox
Lunchbox opened in 2016 and continuously offer lovely traditional Polish food in the form of dinners, desserts and cakes. You can taste the delicious food inside their restaurant located in the Waterford Road Business Park or else order take away and the guys will deliver to you or workplace. You can organise family celebrations in this beautiful restaurant….Christenings, Communion, Birthdays or even a Wedding. Monika, Iza and Agnieszka will make sure that its a kind and efficient customer experience that awaits! … Why not go and try yourself?!
---
Polish Butcher Shop
This little Polish Butcher/Shop in the supervalu car park is constantly growing. Andrzej and Dawid started out the business with basic products which eventually evolved into a butchers and shop. When they originally thought of opening this business, they thought to a larger extent that it would be only Polish who would make up the majority of their business and they have been pleasantly surprised when more and more Irish visit….. their Polish products have found a place within the homes of lots of Irish customers, especially the traditional meats, sausages and of course, the sweets! Being located beside the car park have made these guys very accessible, so why not pop in next your visiting SuperValu?
---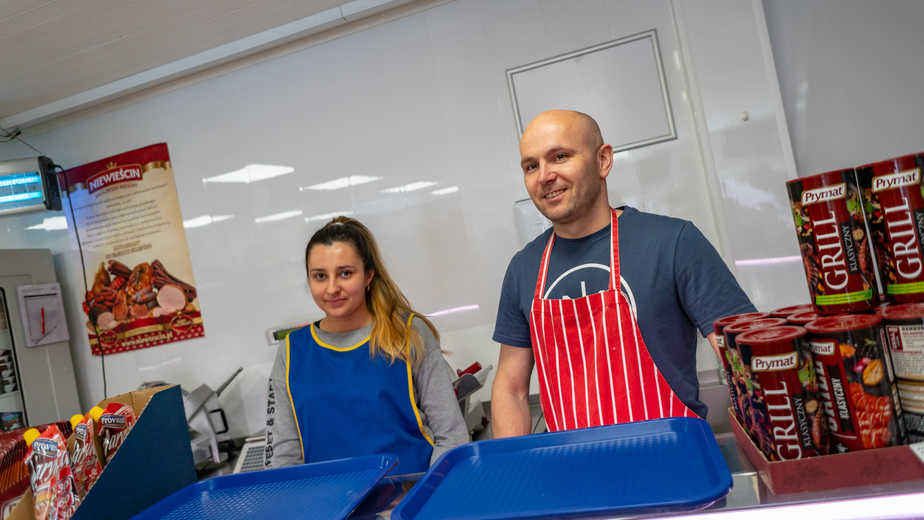 Mirek's Polish Shop
Maybe a more well know face in New Ross is Mirek, who opened his shop in 2017 which has become a hot spot for the local Polish people. The shop is known for carrying a broad range of products which aren't easily found elsewhere. Mirek makes sure that everything he sells is fresh, getting two deliveries a week! Irish people have quickly found interest in his dairy, traditional meats, smoked pork sausage! If that wasn't enough, his latest addition to the shop is a healthy food and supplements section which proving very popularity. Being located at Marsh Lane, why not pop in when passing?
---
House of Colour
House of Colour is the newest addition to the local Polish businesses of New Ross. It is a family run business where each member brings their own unique skillset. This outstanding new salon offers a nailbar, beauty salon and barbers all in a newly renovated premises at 10 North Street. They definitely had the warmest of New Ross welcomes since opening their new business and even though demand is high with booking, these guys will always find a time convenient for you to book in! Why not try for yourself and see what all the fuss is about you definitely won't regret it… 
---
La Patisserie
Having ventured into business with La Patisserie before christmas last year and Karolina  hasn't looked back since gaining more Irish sugar hunter than Polish! This artisanal pastry & dessert shop, sells colourful treats from tasty chocolate orange cake to coffee cake, cream hornets to the more traditional fruit scones  her inspiration comes from a love of french cakes which Karolina says " were always so pretty and colourful but more importantly tasted as delicious as they looked" and her customers couldn't agree more having tried and tasted these heavenly delights the demand grew so high that within the first six months they extended to a sit down cafe! This local business on South Street is certain to hit all the right tastebuds for you.
---
AndyP Burgers
AndyP is also a new addition to the local businesses of New Ross. They are a newly opened restaurant which offers a wide variety of dishes ranging from big meaty burgers to traditional Polish dumplings. If you are a vegan or a vegetarian, don't worry as Andy has dishes specially suited to you! If this wasn't enough, we heard that they are making delicious milkshakes for the summer months so if you're near the Irishtown, make sure to check them out!
---