Shop Local, Shop New Ross
Before you run off to Waterford or Wexford to do your shopping, give New Ross a chance! These independent boutiques offer quality and uniqueness that you can't find online or on the high street. Support local by stopping into these shops where you'll get the customer service you don't receive in chain stores. Check out some of the hidden gems I found in these boutiques below and how I would style them!
Bonita Boutique
These orange trousers would be gorgeous with a white trainer while this blue jumpsuit is perfect for a staff night out or even dress it up with accessories for a wedding!
Amy Jane's Boutique
This shirt and skirt ensemble would be super cute for a casual Friday in work and this vibrant neon dress would be fab for a festival paired with Doc Martens!
Lu Lu Boutique
These plaid blue pants are amazing! You could dress them up with heels and a blazer for a night out or dress them down with trainers and tee. Similarly, this outfit on the right could be worn to the office and then glammed up for a night out.
Blossoms
This faux fur coat is super soft, it's like wearing a duvet. It can be dressed up for a night on the town or for casual mid-week coffee dates. While a yellow suede jacket is perfect for Spring when the weather becomes milder.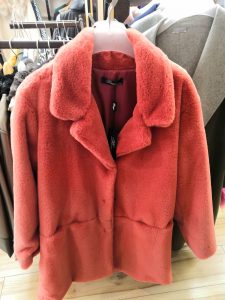 Town & Country Mercantile
These trousers are so cute. Super versatile, could dress them up or down depending on the rest of your outfit. They also have these gorge summer dresses in too. Bring on the sun!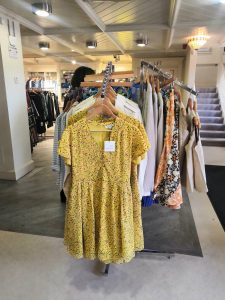 The Clothesline Boutique
The picture of this scarf doesn't do it justice. It's a light pink with flecks of fluorescent orange. This cosmic dress would be perfect for date night or worn with Doc Martens and a leather jacket for an edgy look.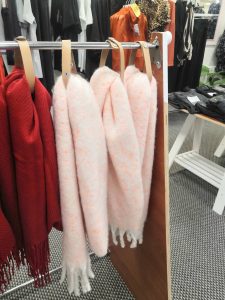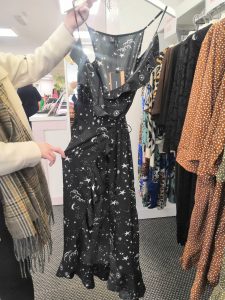 Lady Melia
These skinny fit jeans are that perfect distressed look and I love the graphic tee they have paired with it. They also have this cool houndstooth pattern jumper which is on sale!
Revolution
This funky Superdry tee would be fab paired with mom jeans and trainers and the colour of this mustard hoodie is gorge as a pop of colour!
Found some cool pieces in New Ross? Tag us in your post with #visitnewross
This is how I would personally style these pieces, I'd love to know how you would style them. Comment below!